Bałtycki Teatr Dramatyczny w Darłowie: spektakl "Stosunki na szczycie"
17 kwietnia 18:00

-

19:30

20zł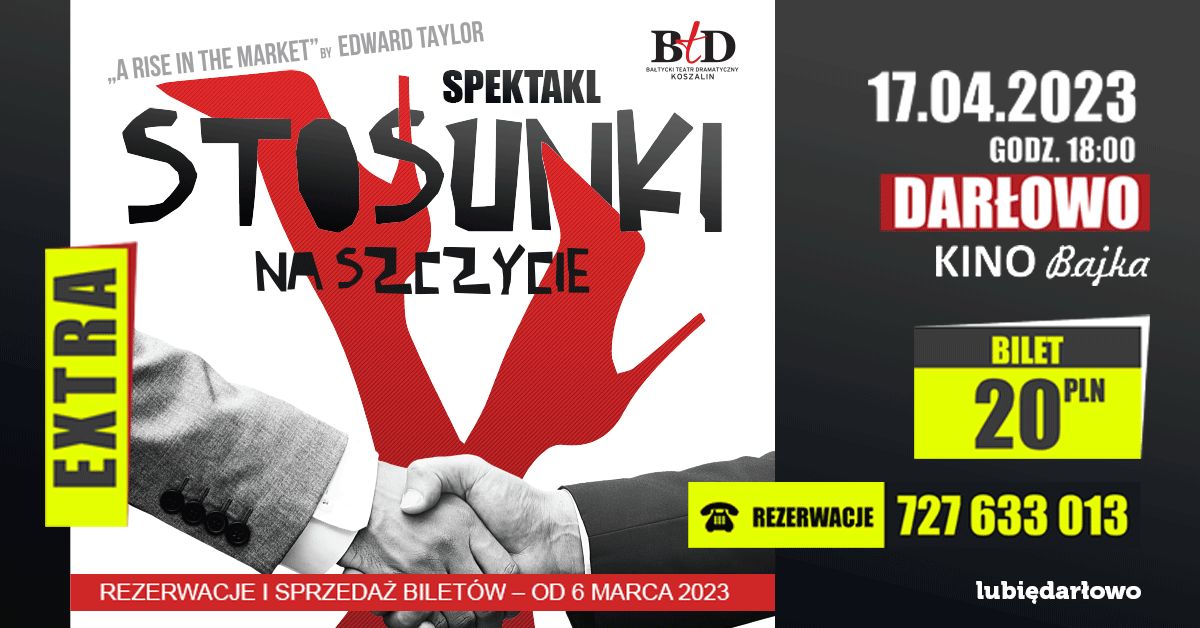 Darłowski Ośrodek Kultury im. Leopolda Tyrmanda uruchomił sprzedaż biletów na "Stosunki na szczycie" – spektakl teatralny, który zagra 17 kwietnia 2023 roku w sali Kina Bajka.
To dwugodzinny spektakl w reżyserii Wojciecha Rogowskiego miał swoją koszalińską premierę 31 grudnia 2022 roku. To znakomita farsa, która bawi do łez i zmusza do refleksji. A jak to ze stosunkami bywa… zaczynają się niewinnie.
Stosunki na szczycie: Kolejna znakomita angielska farsa w Bałtyckim Teatrze Dramatycznym. Po ogromnym sukcesie sztuk: "Mayday" i "Kochane pieniążki" wracamy z ukochanym przez naszych Widzów gatunkiem, który bawi do łez, ale i zmusza do refleksji. "Stosunki na szczycie" Edwarda Taylora zaczynają się niewinnie, od planowanego spotkania wysokich urzędników Unii Europejskiej w luksusowym apartamencie w Paryżu. Gra idzie o nie byle jaką stawkę: sir Clive Partridge, wysoki urzędnik Brytyjskiej Komisji Wspólnego Rynku czeka na Jaquesa Berri, komisarza ds. handlu, który ma zdecydować o ewentualnym poparciu kandydatury Partridge'a na stanowisko Przewodniczącego Komisji… Ale jak to w życiu, a szczególnie w farsie bywa wszystko zaczyna iść nie tak… Nieszczęścia sir Clive'a Partridge'a zaczynają się od zagubionej walizki i niespodziewanej wizyty kochanki, a dalej… Dalej jest tylko gorzej, czyli… śmieszniej! Grana w oszałamiającym tempie, z piętrzącymi się komicznymi sytuacjami i dialogami pełnymi angielskiego humoru farsa z życia wyższych sfer jest idealną propozycją dla tych, którzy szukają w teatrze rozrywki na najwyższym poziomie.
Reżyseria: Wojciech Rogowski / Premiera: 31 grudnia 2022 r.  / Autor: Edward Taylor / Tytuł oryginalny: A Rise in the Market / Obsada: Bernadetta Burszta, Żanetta / Gruszczyńska-Ogonowska, Beata Niedziela, Marcin Borchardt, Adam Lisewski, Wojciech Kowalski, Wojciech Rogowski, Inspicjent: Izabela Rogowska / Scenografia/Kostiumy: Beata Jasionek / Dramaturgia/Oprawa muzyczna: Tomasz Ogonowski / Przekład: Elżbieta Woźniak
DOK przypomina: ilość miejsc ograniczona – decyduje kolejność zakupu.
Zapraszamy do kasy lub na www.kino.darlowo.pl