Bieg Króla Eryka w Darłowie to coroczna impreza biegowa, która przyciąga setki biegaczy z całej Polski. W tym roku bieg odbędzie się 13 maja i będzie to już siódma edycja tego wydarzenia, organizowanego w ramach Dni Darłowa.
Trasa obejmuje 10 kilometrów. Biegnie wokół miasta, przecinając najbardziej urokliwe zakątki oraz zachwycające punkty widokowe. Bieg rozpoczyna się na Zamku w Darłowie, gdzie każdy uczestnik otrzyma pakiet startowy.
– Bieg Króla Eryka to nie tylko okazja do zdrowego ruchu i rywalizacji sportowej, ale również możliwość poznania historii tego malowniczego miasta. W czasie biegu uczestnicy przecinają mury zamku książąt pomorskich, a także mijają piękne, zabytkowe kamienice i kościoły – podkreślają organizatorzy.
Organizatorzy zapewniają wysoką jakość organizacji oraz bezpieczeństwo uczestników. Na trasie biegu znajdują się punkty z pożywieniem oraz służby medyczne. Po ukończeniu biegu każdy uczestnik otrzyma pamiątkowy medal.
Bieg Króla Eryka w Darłowie to wydarzenie, które cieszy się coraz większą popularnością wśród biegaczy i turystów. Dla wielu osób jest to doskonała okazja, by połączyć wypoczynek nad morzem z aktywnością fizyczną i rywalizacją sportową. To także okazja do poznania ciekawych miejsc w Darłowie oraz historii miasta.
Jeśli lubisz biegać i szukasz okazji do połączenia sportu z turystyką, to bieg w Darłowie jest idealnym wyborem. Zapisy na bieg trwają już teraz – nie zwlekaj i zgłoś się do udziału.
Biegi dla dzieci i młodzieży
W ramach imprezy organizowane są również biegi dla dzieci i młodzieży, które są doskonałą okazją do aktywizacji najmłodszych. Dla dzieci przygotowano specjalne trasy biegowe, dostosowane do wieku oraz różne atrakcje. Organizatorzy zadbają o to, aby dzieci czuły się bezpiecznie i dobrze bawiły podczas imprezy.
Jeśli chcesz wprowadzić swoje dziecko w świat sportu i zachęcić je do aktywności fizycznej – bieg Króla Eryka w Darłowie jest doskonałą ku temu okazją.
Nie zwlekaj i zapisz swoją pociechę na bieg dla dzieci już teraz. Liczba miejsc ograniczona do 300 uczestników.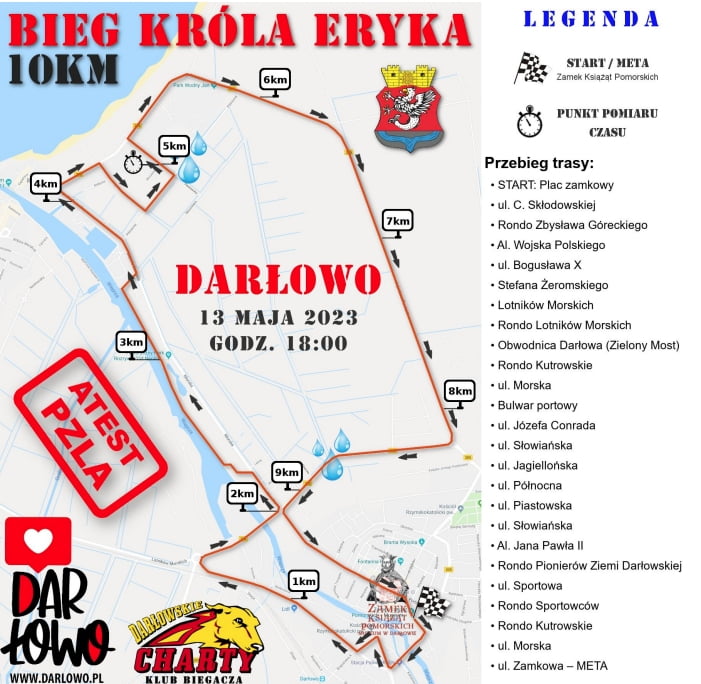 Kontakt: Waldemar Śmigielski / tel. 94 314 22 23, email: w.smigielski@darlowo.pl